Transfer of organic and inorganic pollutants in the food chain after spreading of residual-origin fertilizing materials on grasslands
L'épandage de matières fertilisantes d'origine résiduaire sur les prairies comporte-t-il des risques en termes de transfert de polluants organiques et inorganiques vers la chaîne alimentaire ?
The objective of this paper was to evaluate the transfer of inorganic and organic pollutants to livestock through ingestion of soil, plants, water or contaminated soil fauna, following spreading of residual-origin fertilizing materials (MAFOR) on grasslands. In the course of such an assessment the amounts of pollutants ingested, the fraction of pollutants to be extracted from the matrix and their fate in the body need to be considered. Field studies aiming at evaluating the pollutant transfer from MAFOR to livestock remain scarce. They are mainly based on sewage sludge application in grasslands and they do not allow estimating the impact of other forms of MAFOR. Taking into account the available knowledge on pollutants transfer to animal products, it appears that organic pollutants are more strongly absorbed and transferred than Trace Metals (TM). Mainly non metabolized pollutants significantly accumulate in animal products: organic pollutants generally concentrate in fatty tissues and products while TM are preferentially found in offal. However, a serious lack of knowledge about the behavior of emerging organic contaminants (brominated perfluorocarbons, phthalates, paraffin) or certain TM (vanadium, thallium) has to be noted. Overall, a significant transfer of organic and inorganic pollutants to animal products, following the application of residual-origin fertilizing materials on grasslands, cannot be excluded.
L'objectif de cet article est d'identifier les points de vigilance relatifs aux transferts de polluants inorganiques ou organiques vers les animaux d'élevage via l'ingestion de sol, de plantes, d'eau ou encore de pédofaune, consécutivement à l'épandage de MAtières Fertilisantes d'Origine Résiduaire (MAFOR) sur les prairies. Cette identification consiste à prendre en compte simultanément les quantités de polluants ingérées (quantité de matrice ingérée × concentration du polluant dans cette matrice), la fraction biodisponibleet le devenir des polluants au sein de l'organisme. Les études réalisées en conditions de terrain et qui renseignent l'ensemble des données nécessaires pour estimer l'impact des MAFOR épandues sur prairies sont rares et peu conclusives. Elles reposent principalement sur l'application des boues de stations d'épuration sur des prairies et ne permettent pas de comparer l'impact des autres formes de MAFOR. Cependant, en prenant en compte l'ensemble des connaissances sur les transferts de polluants vers les produits animaux, il apparaît que les polluants organiques sont plus fortement absorbés que les Eléments Traces Métalliques (ETM). Seuls les composés peu biotransformés s'accumulent significativement dans les produits animaux. In fine, les polluants organiques se concentrent généralement dans les tissus et produits gras alors que les ETM se retrouvent préférentiellement dans les abats. Cependant, un manque manifeste de connaissances sur le devenir de contaminants organiques émergents (bromés, perfluorés, phtalates et paraffines) ou de certains ETM (vanadium et thallium) doit être signalé. De manière globale, les transferts de polluants organiques et inorganiques vers les produits animaux, suite à l'épandage de MAFOR sur les prairies, ne peuvent être exclus.
Fichier principal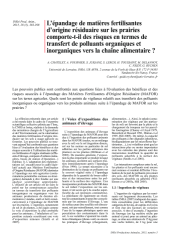 2015_Chatelet_IPA.pdf (1.31 Mo)
Télécharger le fichier
Origin : Publisher files allowed on an open archive
licence : CC BY - Attribution